Did you know at Structerre we've been providing our clients with 3D Details since 2017 on all of our designs?
The change from hand drafting to computer aided drafting (CAD) is one of the only recent advancements of structural drafting. Noticing this, we wanted to utilise the power that today's smartphones, tablets and personal computers offer and make life easier for our clients. After years of hard work and inventive thinking from our innovation team, we are excited to showcase and promote our 3D Virtual Details.
We've found that creating 3D Details that can be rotated and zoomed in and out has allowed for a greater understanding for our clients of the connection of the details to the overall design. Typically, the 3D Details are used to show tie downs, connections between timber & steel frames and base plate details.
Here are 3 examples of details we commonly use that you can have a play around with yourself to see how easy it is!
3D modelling is used extensively in the construction of larger buildings, but the time and resources required made it an unviable option in residential construction and a technology out of reach for most engineers.  However, at Structerre, we found ourselves drawn to the potential and we began looking at ways to best utilise it for clients of all sizes.
Further improving on the capabilities of 3D modelling, we embedded QR codes and hyperlinks within our standard cavity brick construction tie down details, meaning we can now provide extensive high-resolution 3D detailing in a real-time, onsite environment. Our clients now have an instant go-to resource.  This innovation has led to less on-site complications and therefore less harvested waste, this means there is a reduction in cost for our builders and their homeowners.
Image: A QR code from one of our plans
The 3D details can easily be accessed through the links on our digital copies of our structural drawings, or you can scan the QR codes provided and read them directly from your smart phone. We've made it as easy as possible for our clients.
The below example shows how the connection is viewed on the plan and shows the scannable QR code that takes you to the 3D detail.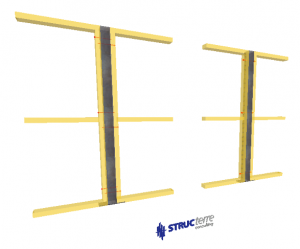 Image: Timber frame to steel column connection
From those in the office to those on site, our builders have had this instant resource to go to since 2017.
If you would like to find out how you can benefit from our 3D Details and manage your builds more efficiently without any additional costs or hassles, reach out to our friendly team today!
Back to News